Description
Build in Opto-isolations on EX-9510 provides 3000VDC of isolation to protect the host computer from ground loops and destructive voltage spikes on the RS-422/485 data lines.EX-9510 also offers internal surge-protection on the data lines. Internal high-speed transient suppressors on each data line protect the module from dangerous voltages levels or spikes.
Feature:
Automatic internal RS-422/485 bus supervision
No external flow control signals required for RS-485
Minimum 3000VDC isolation protection
Transient suppression on RS-485 data lines
Supported baud rate up to 115.2Kbps
Reach distance up to 4000 feet (1200m)
Reserved space for termination resistors (R8,R9)
Power and data flow indicator for troubleshooting
Power requirement: +10V to +30VDC
Mount easily on DIN-rail or panel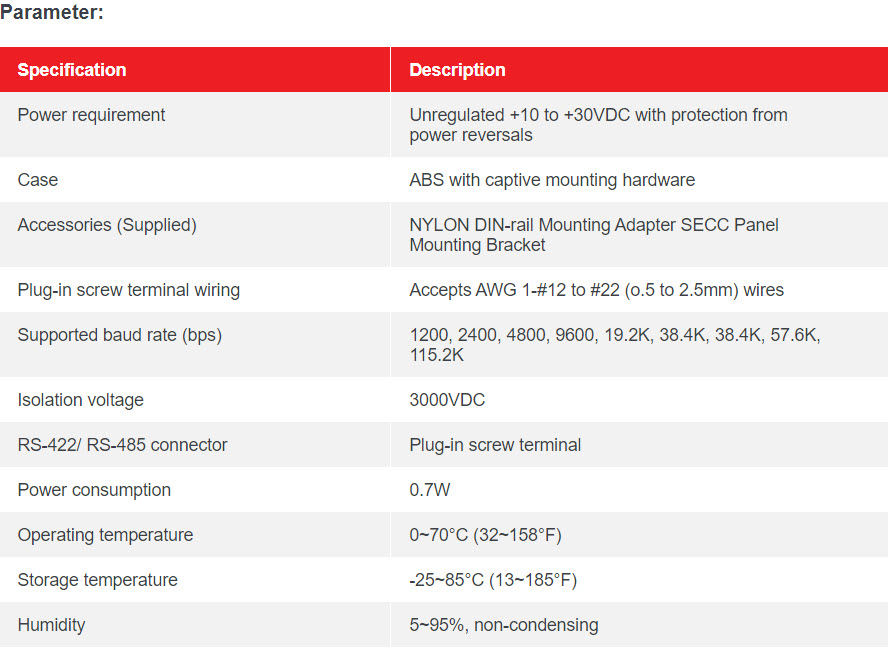 Power Supply:
EX series modules are designed to accept industry standard +24VDC unregulated power. Operation is guaranteed when using any power supply between +10 and +30VDC.
Power ripples must be limited to 5V peak to peak while the voltage in all cases must be maintained between +10V and +30VDC. All power supply specifications are referenced at module connector.