Description
Special feature:
Face is visible even near to camera.
One of the most common problems of a normal IP camera is that a person's face gets whited out (over-exposure) when gets close to the IP camera. Thus, you can't see the person's face clearly.
MAG IP camera built with Smart IR technology is capable to adjusts the intensity of the camera's infrared LEDs to compensate for the distance of an object so that the infrared does not overexpose the object. You will still get a visible face even the person approached the camera within 3 meters. With this, you can have useful video footage as evidence if any incidents happen.
The following images compare the night vision capability of MAG IP camera with smart IR to one without. Notice that when the person gets close to the camera, his face is still visible on the camera that uses smart IR, but is whited out on the camera that does not have it.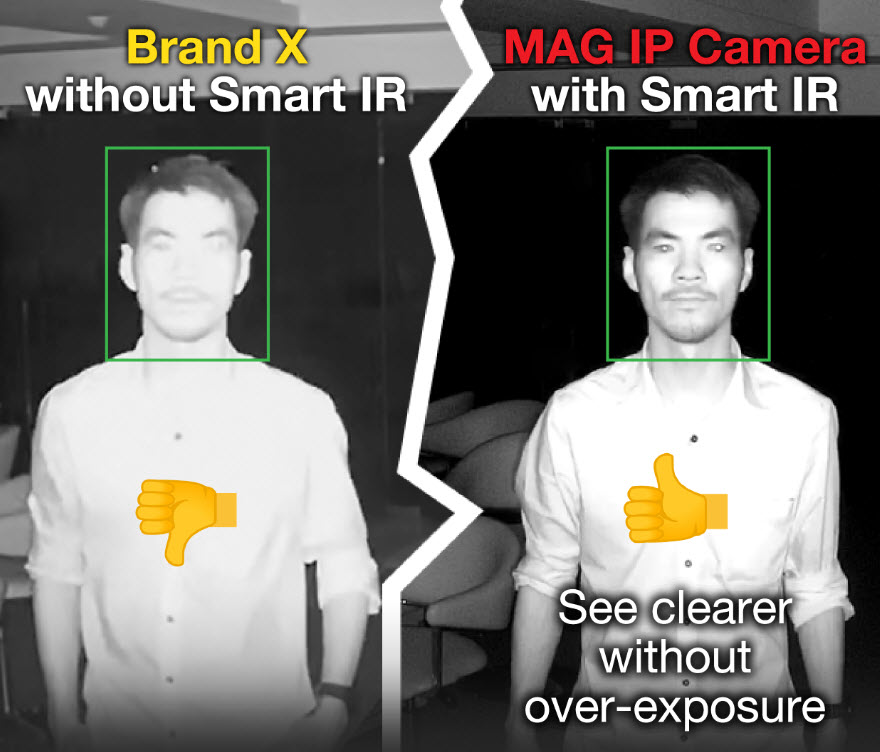 Feature highlights:
Optics
Day/night functionality
Smart IR, up to 30m (98ft) IR distance
2D/3D DNR (Digital Noise Reduction)
Compression
Ultra 265, H.265, H.264, MJPEG
ROI (Region of Interest)
Network
Structure
Wide temperature range: -20°C ~ 50°C (-4°F ~ 122°F)
Wide voltage range of ±25%
IP67