Description
ME-Visitor Management System is integrated with ME-ACS (access control) software to offer a complete building entrance security solution. Visitors check-in using ME-VMS will be assigned a proximity card to access the entrance gate at the building lobby. ME-ACS control and monitor this proximity card. By effectively filtering out all "BAD PEOPLE" and only allowing "GOOD PEOPLE" to go in, you already eliminated 90% of the potential security threat in the building. Visitor drops their cards into Dropbox for automated check-out in ME-VMS. ME-VMS offers minimum keyboard typing to allow the fastest speed to check-in visitors. The operator or security guard only required very minimum IT knowledge in order to operate ME-VMS. Please click the video below for the live demonstration of ME-VMS integration for building visitor and entrance gate access control solutions.
ME-VMS enterprise version allows multiple visitor reception counters. Each counter shall have its own MyKad reader to check-IN and check-OUT visitors at the same time. This allows ME-VMS to cater for high traffic visitor flow in high-density building. All visitor counters are connected to the central database.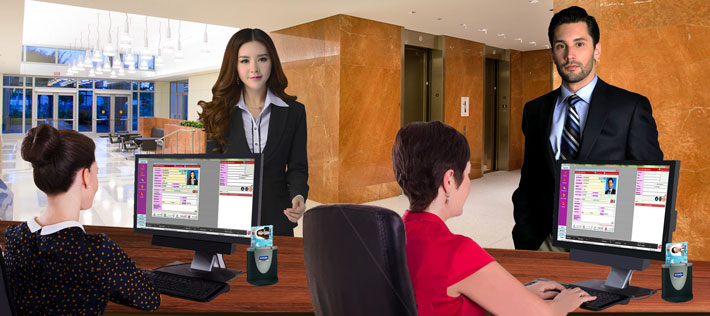 Benefits
Extra visitor info from Mykad to ensure all information is captured accurately up to digital precision.
Minimum typing to ensure fast speed visitor check-in and check out. Personnel with very less IT knowledge will be able to use the system with minimum training.
Maintain black list to quickly identify visitor drop that have bad history record.
Support fast auto check-out when visitor drop their card into SOYAL reader inside dropbox.
Allow employee to pre-register visitor ahead of time to further expedite check-in.
When used together with MagEtegra ME-ACS, you can assign door access and lift access permission to visitor. You can also capture pictures of visitor when they check-in and check-out as visual evidence for future audit purpose.
During emergency, ME-VMS will show number of visitors that are still in the building. Integration with ME-ACS will also show visitor last known door. This helps facilitate efficient evacuation.