Description
Special feature:
Backup battery function. DC operation of the motor allowed backup battery function. In the event of power failure, backup battery will allow up to 25 times continuous opening and closing.
Higher speed with dual-speed control. DC motor operate at higher speed compared to AC motor. Controller also support dual speed cushioning where gate will move at a lower speed to avoid loud bang sound at the end of gate movement.
Less heat operation. DC motor generally operate with lower heat dissipation. This
allow SL100DC to support much more frequent continuous opening / closing thus higher operation duty-cycle. Ideal solution for site with high volume traffic.
Extra quiet with Nylon pinion gear. MAG nylon pinion is made with special polymer formula. Nylon elastic property produce minima friction noise with metal gear rack while maintaining sufficient hardness to support up to 600 kg gate with ease.
Standard feature:
Standard gate weight supported is 600 kg
Silent operation < 60dB
Opening speed 15.5 meter / min
Gearbox is greased type
Coded remote control allow 30 to 50 meter transmission
Support photo beam input for extra safety feature
Limit switch using heavy duty micro switch for reliable and accurate positioning.
Superior built quality with high grade material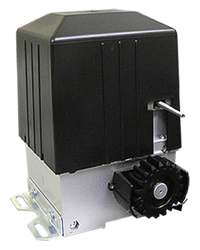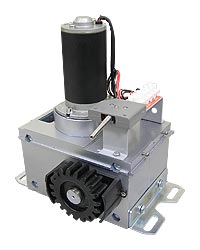 SL100DC motor. Maintain same powerful movement as AC motor.
Accessories add-on:
Commax door phone. Speak to your visitor to verify their identity before opening autogate for them to come in. Click here for more info.
Magtec Rim lock for the side gate. Conveniently open the side gate using a push button inside the house. For pedestrian visitor, just open the side gate is enough. No need to open up autogate to minimize risk of un-authorized intrusion.Click here for more info.