Description
Special feature:
Catch the thief faster and safer
Most people installed IP camera with just capturing video footage, but they are not aware that IP camera with 2 way audio can actually help them prevent further loss.
MAG IP camera with 2-way audio can support external microphone and speaker for 2 way communication. You can hear to know what exactly happening in the scene either live or playback and speak to the person or thief by giving warning instantly live via MagEtegra software. You can scare off the thief to avoid further action from the thief that can risk somebody's life or loss of belongings. It also helps you ensure that it is safe to send your guard to catch the thief faster and more efficiently.
Watch the following video to know how can MAG IP camera integrated with our MagEtegra software for instant alarm alert and 2-way communication.
Never lose your video when the connection down.
MAG IP CCTV with built-in ANR technology allows you to safeguard your video footage because it will auto backup the video footage into SD card inside the IP camera when the connection is down. Once the connection resumed, it will automatically transfer the video footage back to NVR. You don't have to worry about losing your important video footage.
Watch the following video to know more.
Feature highlights:
Optics
Day/night functionality
Smart IR, up to 30m (98ft) IR distance
Up to 120 dB WDR (Wide Dynamic Range)
2D/3D DNR (Digital Noise Reduction)
Compression
Ultra 265, H.264, MJPEG
Embedded smart algorithm
ROI (Region of Interest)
Customized OSD
Network
Structure
Wide temperature range: -35°C ~ 60°C (-31°F ~ 140°F)
Wide input voltage range of ±25%
IK10 vandal resistant
IP67
3-Axis
Start enjoying better image quality, higher resolution and more convenient wiring today. Click here to contact us now for more info.
If you are not ready to buy now, click here to learn about the 4 common problems of IP based CCTV system to help you make a wise choice.
Specification: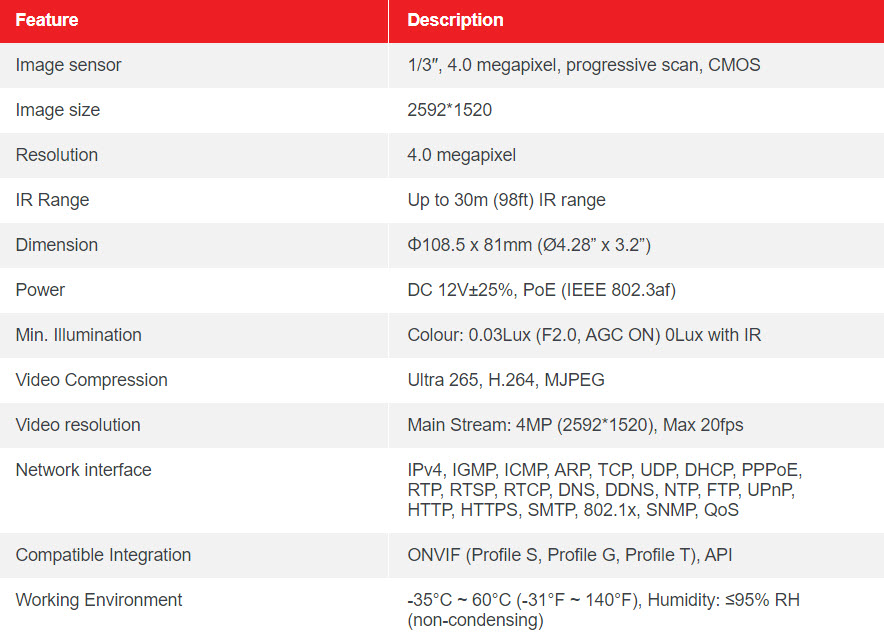 Click here to choose the IP CCTV solutions that lower the IP camera and NVR price when purchased as a package.