Description
Special feature:
Zoom in to see closer and details.
It is very frustrating when your CCTV is seeing the incident now but unable to verify what is actually happening or see the person's face clearly. This is due to the limitation of normal CCTV without motorized zooming function where digital zoom CCTV cameras simply enlarge the pixels of the image, which often results in blurry images and videos, compared with optical zoom CCTV cameras.
MAG IP CCTV with built-in motorized lens allows you to zoom in live to see closer with 5X motorized optical zoom. Optical zoom IP cameras can let you zoom in to view more image details or zoom out to get a wider viewing angle, without compromising the image quality. The IP camera optical zoom is achieved by the actual adjustment of the camera optics, such as rotating different lenses inside the camera. You can consider optical zoom is as looking through binoculars. With motorized zooming, security guards can act faster to any incident and prevent further loss, especially in the car parking area.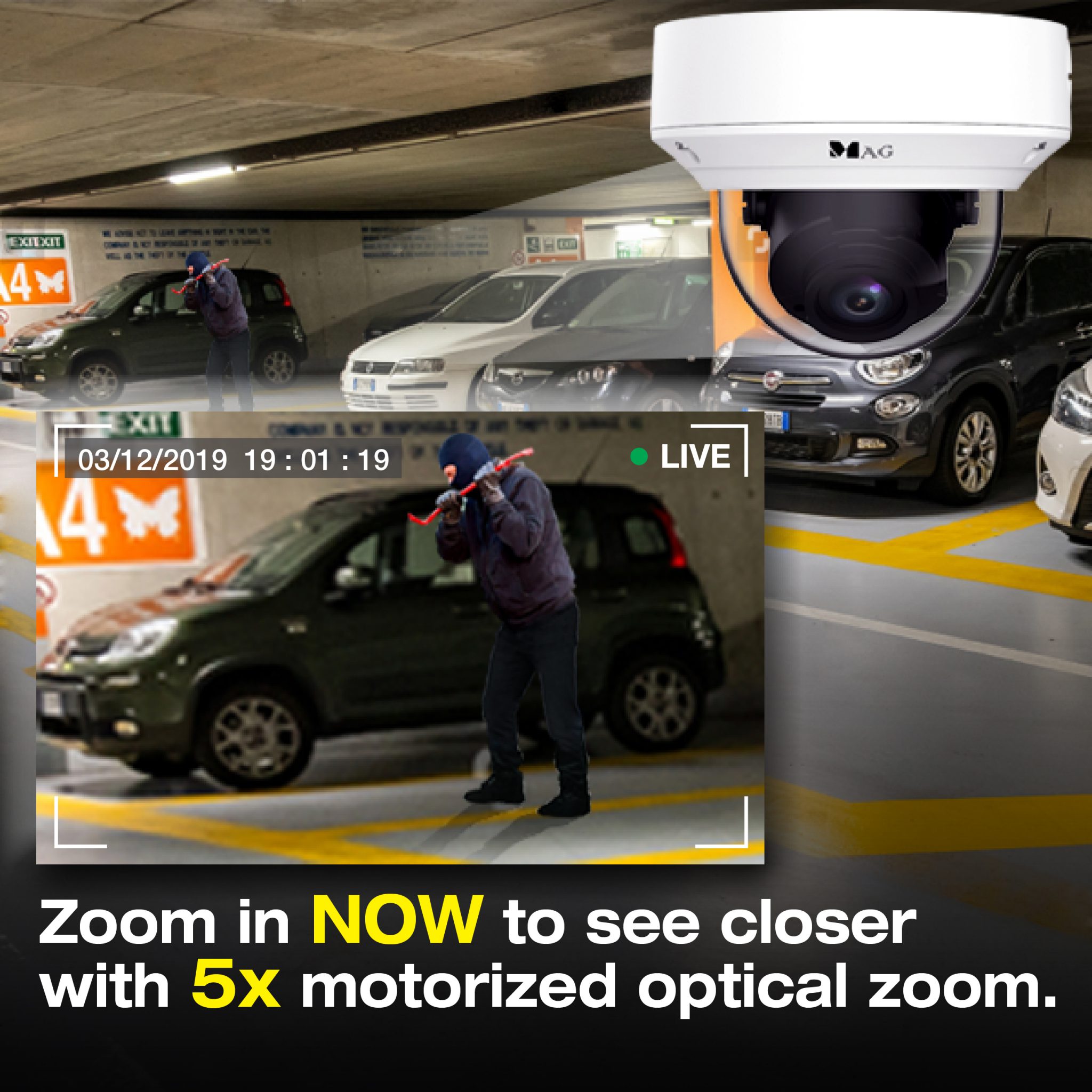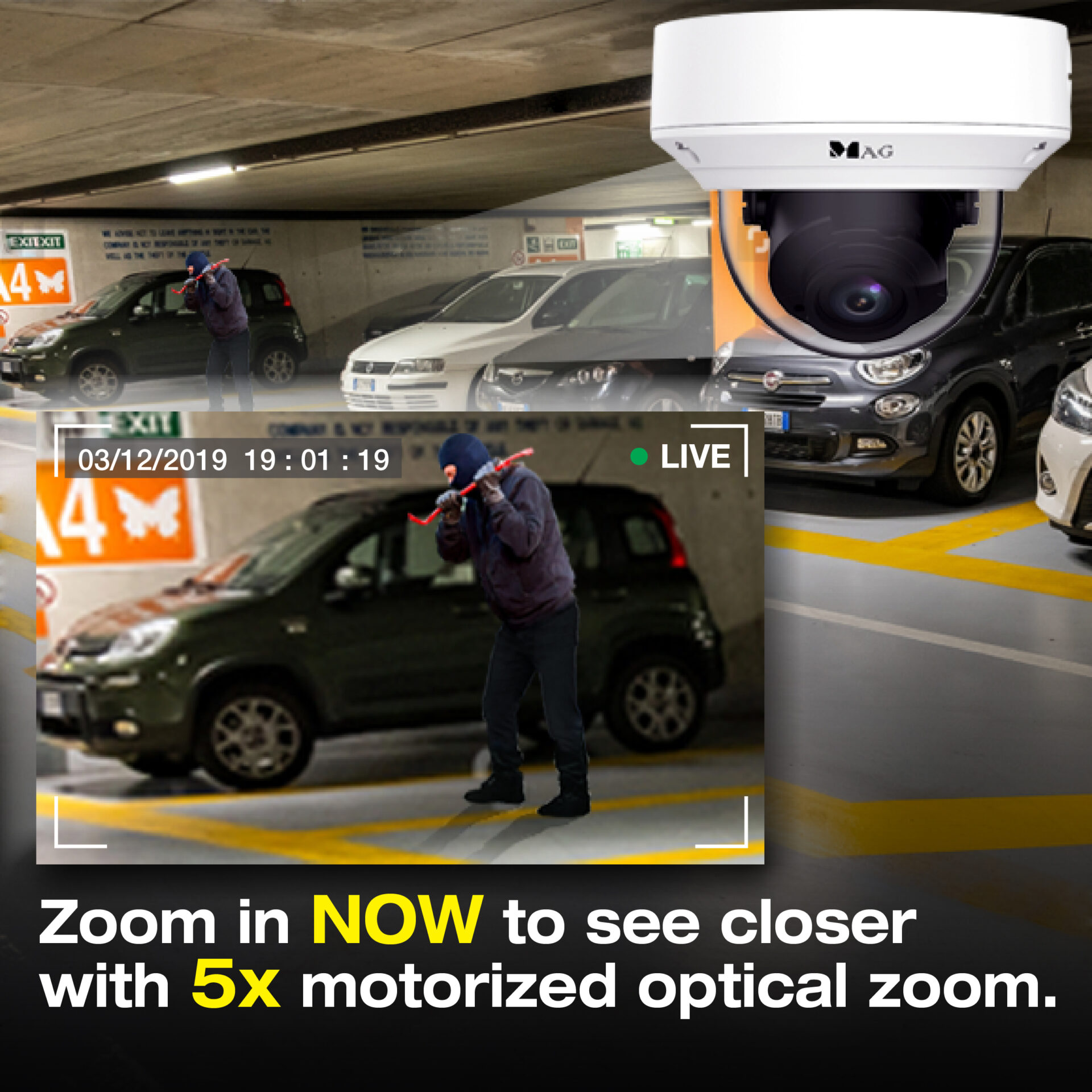 Feature highlights:
Optics
Starlight illumination
Day/night functionality
Smart IR, up to 30m (98ft) IR distance
Up to 120dB Optical WDR (Wide Dynamic Range)
2D/3D DNR (Digital Noise Reduction)
Built-in motorized lens for remote zoom
Compression
Ultra 265, H.264, MJPEG
Embedded smart algorithm
Triple streams
ROI (Region of Interest)
9:16 corridor mode
Network
Structure
Support PoE power supply
Built-in PoE splitter that outputs DC 12V
Wide temperature range: -40°C ~ 60°C (-40°F ~ 140°F)
Wide voltage range of ±25%
IK10 vandal resistant
IP67
3-Axis
Start enjoying better image quality, higher resolution and more convenient wiring today. Click here to contact us now for more info.
If you are not ready to buy now, click here to learn about the 4 common problems of IP based CCTV system to help you make a wise choice.
Specification: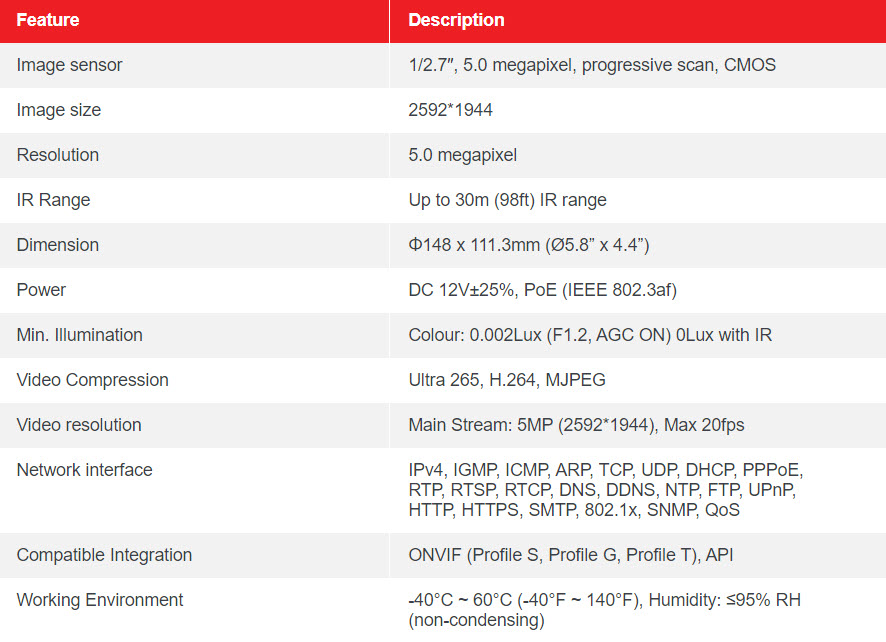 Click here to choose the IP CCTV solutions that lower the IP camera and NVR price when purchased as a package.