Description


Standard feature:
SSL support for sending secured emails via a secure sockets layer; a protocol for encrypting information over the Internet
HTTPS support for improving security (HyperText Transfer Protocol Secure; a widely used communications protocol for secure communication over a computer network)
Two I/Os on board; controlled via the web interface, triggering an email
Event log on web interface; displays last 64 events
Easy installation; built-in clip for mounting in a metal box
Report control panel events via IP to the Paradox IPR512 GPRS/IP Monitoring Receiver
Control and monitor a control panel through an IP network (LAN/WAN/Internet)
Compatible with Spectra SP series (V2.10 or higher), MG5000/MG5050 (V2.10 or higher) and EVO control panels
Use NEware, WinLoad or Babyware to access your system through the Internet
Receive notification of system alarms via email
Arm/disarm individual partitions via web browser
View live status of all zones and partitions (e.g., open/close, arm/disarm, troubles and alarms) via web browser
ParadoxMyHome available for dynamic IP address
Very low bandwidth consumption
Supported language: English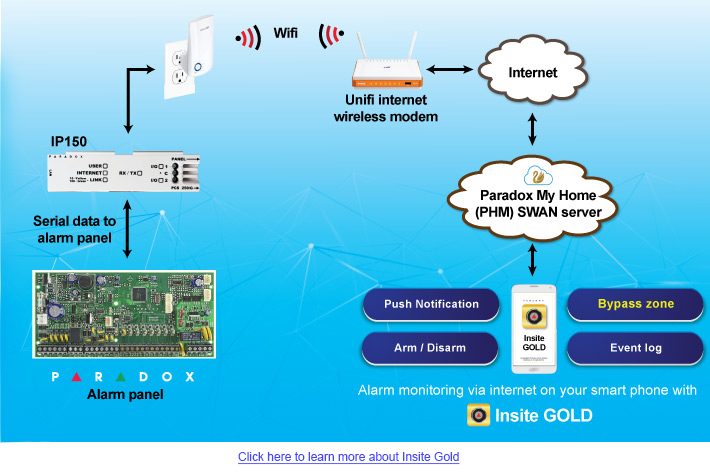 Start enjoying the peace of mind of Canadian's security technology today. Click here to contact us now for more info.
If you are not ready to buy now, click here to learn about the 4 common problems of burglar alarm system to help you make a wise choice.