Description
Can you imagine all the tenant's angry faces when the lift access is down and they are forced to take the stair? If you manually bypassed it, you're worried intruder would use this loophole to enter the building. You looked for a lower-cost alternative brand but you are not confident about their product quality and backup service. Buying a lift access system suddenly does not seem as easy as it looks.
How can you pay lesser and still maintain good quality and fast service?
SOYAL uses the same AR725E for door access and lifts access. The economy of scale from AR725E big quantity in door access allows you to enjoy the same low price despite a smaller qty of lift access. In the worst-case scenario, you can even take an AR725E from a noncritical door to resume the more critical lift access immediately. If your door access and lift access use the same AR725E, you can easily keep a few spare units to sustain all 2 access systems in your building.
Up and running most of the time
Prolonged downtime will allow intruders to exploit the momentary security loophole. MAG authorized dealers can leverage the wealth of experience in our support team, online knowledge base, warranty service and good spare parts availability for repairing to ensure any technical issue can be resolved faster.
How does the elevator access control system work?
You get into the elevator and flash the card to the reader installed beside the floor buttons. You are only allowed to select the floor that is authorized for his access. The administrator will be able to control, monitor and generate access log daily, a monthly and yearly report from the ME-ACS software.
For example, a tenant can only access the Third Floor, while another tenant can only access the Fifth Floor by their condominium unit level. Floors that contain common areas such as the Cafeteria or Fitness Center would typically be accessible to all tenants. Some administrative staff such as senior executives or facilities maintenance personnel might be given access to all floors.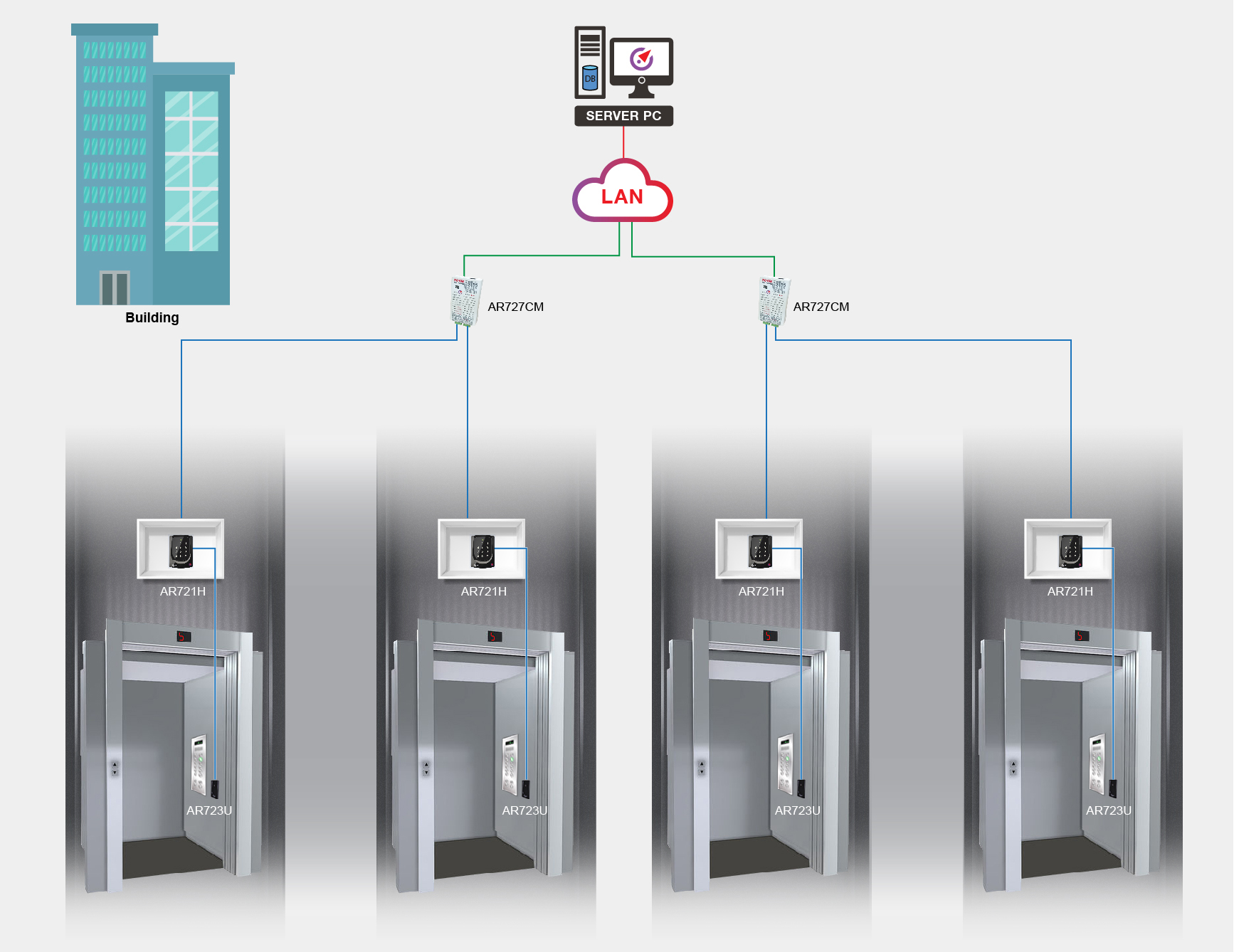 Enhanced flexibility
Upgrade to ME-ACS Pro-Basic to support different floors for different lift functions. Let say you have a condominium unit on the 7th floor of block A and the 18th floor on block B. Instead of carrying multiple cards for each block, you can carry 1 card to access all your condominium units in both blocks.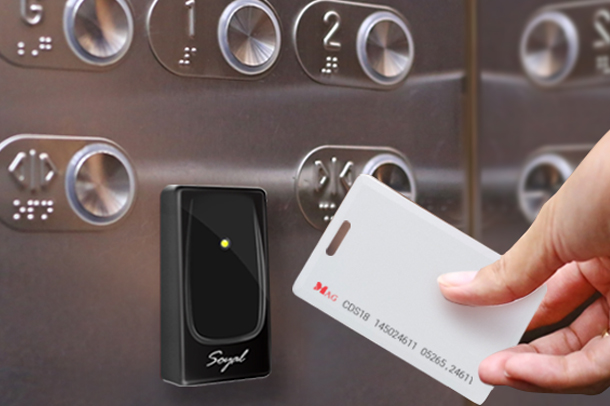 Privacy is my priority
Are you worried about seeing an unknown visitor walking around on your floor? You can easily control who can enter which lift, at which floor and at what time at your fingertips with our user-friendlier role-based access control. You do not need to be an IT expert. Click here to find out how easy it is.
More secure
Other than the emergency staircase, a lift is the only gateway to each floor. By securing all emergency door-by-door access and filtering out all the bad people at the lift, you can reduce 90% of security threats. What if your building can be free of robbery, hostile intrusion, and vandalism?
Looks nice
While all controllers hide above the lift car, AR721U minimalist black reader installed beside the floor button can easily match the contemporary design of any modern lift. Its mini size allowed it to hide behind the floor button easily.
The convenience of being "SINGLE"
"One-Card-Total" integration allows your tenant carrying only a SINGLE card to access the barrier gate, go up to their floor and open the door of their authorized room. HR, IT, Facility, maintenance and security teams can work together to manage entire parking, lift and door access from SINGLE software leveraging on our multiple simultaneous client software architectures.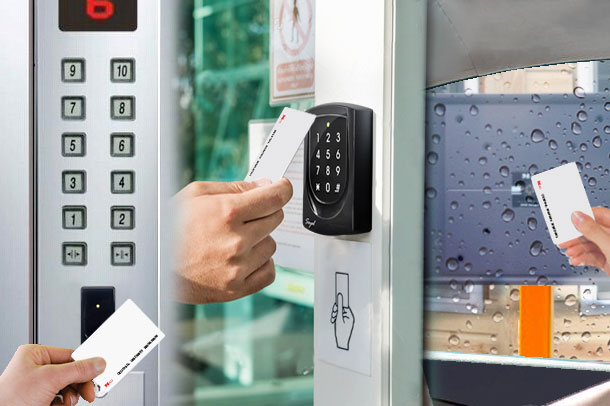 How about the visitor?
Our ME-VMS software can help you manage your visitor and prompt blacklist person immediately. All visitor identity is verified by their MyKad before giving them an access card to go up by the lift. You will always know who is inside your building.
Site Implementation:

Ordering info: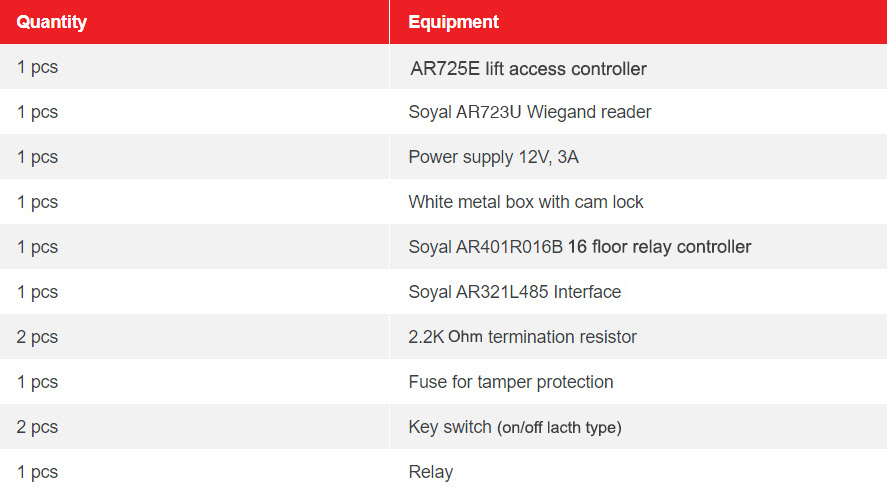 Optional accessories to add on:
Add AR727CM to link multiple EV packages to PC via TCPIP LAN network
Add AR401R016 floor relay controller to support additional 16 floors
Start enjoying the confident feeling of knowing every lift in your building is well secured at an affordable price with rock-solid after-sales service today. Click here to contact us now for more info.
If you are not ready to buy now, click here to learn about the 4 common problems of lift access to help you make a wise choice.