Description
How does standard parking card access system work?
Entry and exit reader is connected to AR721E two wiegand reader interface for anti-passback function. Support up to 3000 cards. During entry or exit, flash the proximity card in front of the reader. Upon identity verification, AR721E interface will trigger the barrier gate to open.
CP3 is connected to Soyal701 basic software. All user profile can be recorded into Soyal701 software. User can add/delete user in software and download user changes into AR721E controller. Soyal 701 software offer clean GUI instead of crowded the screen with unnecessary functions. Security guard or operator with minimum IT knowledge will be able to operate the software easily. After updating user changes, PC can be unplugged from CP3. CP3 shall continue to run standalone without requiring any software connection.
There are 3 types of reader that can be connected to AR721E two wiegand reader interface. Each reader is different depending on the reading range.

What is benefit of standard parking card access system?
Prevention is better than cure. It is better to block unauthorized visitor right at the entrance rather than trying to catch them after they are inside the premise. Filtering out unauthorized visitor from the very beginning will effectively reduce internal security threat.
Software allowed detailed access activity report for audit in the event of crime
Immediately deny entry to tenant that did not pay monthly maintenance service fees. Effectively improve service fees collection rate.
Immediately deny entry to tenant that has been black listed to declined access permission
Mid range and long range reader allow user to flash card from inside the car without winding down windows. No more hand getting wet during those rainy days. You can enjoy the fullest comfort from the benefit of our mid range and long range RFID technology.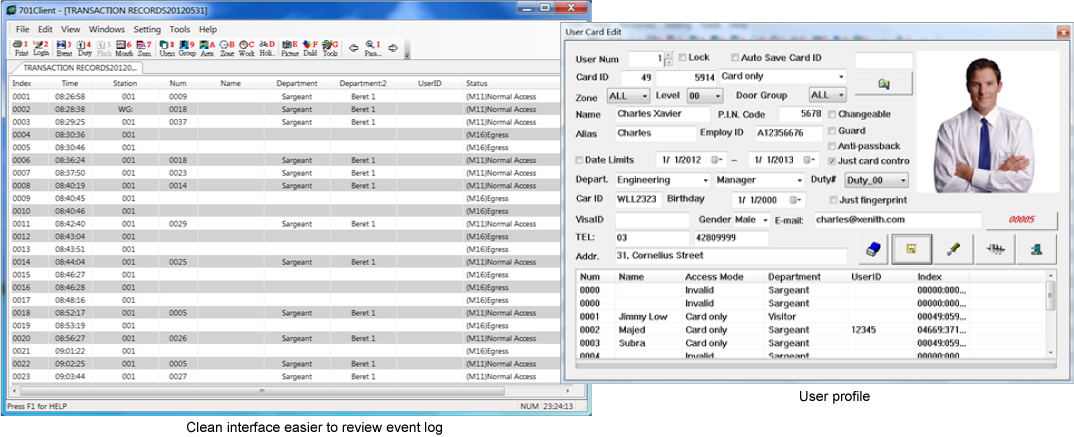 Ordering info:
Each CP3 system consists of 1 x Main system (CP3M) and 2 set x chosen reader package. There are 3 options of reader package available for your choice : short range, medium range or long range.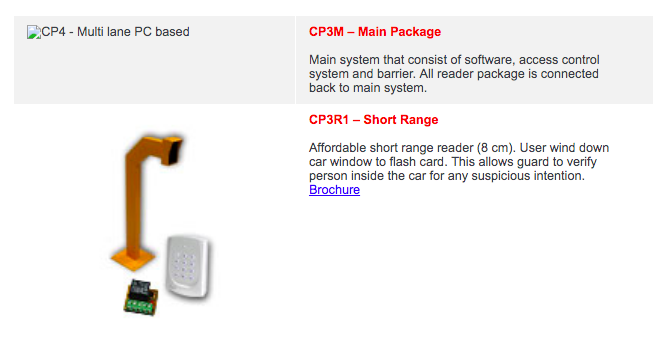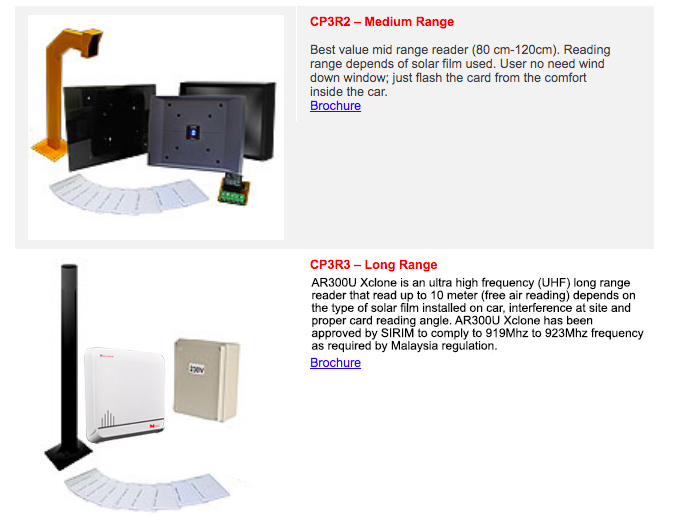 Optional accessories to add on:
Add surge protector to eliminate risk of equipment damage by lightning surge
Add push button for manually open barrier gate
Add ARRep485 repeater if wiring from guard house to office is longer than 200m.
Recommendation:
For hacking underneath road, recommended to use Unitronic RS422 data cable for better reliability.
Recommended to use MAG Barrier gate for maximum compatibility and reliability