Description
Imagine the hassle to verify tenant identity for a temporary card when they forgot to bring their access card. What if they misplaced it and an intruder manages to clone the card? You have to manage all the lost and found cards every day not to mention a constant cost to replenish lost cards. Cards can be passed around to the tenant's friend so you don't know who is in your building.
More secure and convenient
Face recognition is based on the unique biometric of each person's face and therefore cannot be cloned. In addition, the FR300's dual-lens can verify a real person's face and reject a fake printed photo. No more forgot to bring cards or PIN, you can never forget to bring your face.
"One-Face-Total" integration allows using your face to pass through the lobby's pedestrian gate, go up to their floor in the lift and open the door of their authorized room.
As simple as 1, 2 and 3
Firstly, you need to enrol all the users' faces into MagEtegra ME-ACS software via webcam or upload a face image file. Secondly, you need to specify when (time zone), which level (floor group) and which elevator (door group) the user can access in the user profile settings. Lastly, you need to download all enrolled face pictures and access permission into the respective face recognition reader in the lift.
How does the elevator access control system work?
The user gets into the elevator car and scans their face on the face recognition reader installed on top/beside of the floor buttons panel. The user is only allowed to select a floor that is authorized for his access. The administrator will be able to control, monitor and generate daily, monthly and yearly access log reports from ME-ACS software.
For example, employees who work in the Accounting Department have access only to the Third Floor, while employees working in the Advertising Department have access only to the Fifth Floor. Floors that contain common areas such as the Cafeteria or Fitness Centre would typically be accessible to all employees. Administrative employees such as senior executives or facilities maintenance personnel might be given access to all floors.
Fix it faster
Imagine all the angry tenants if the lift access breaks down for multiple days. If you manually bypassed it, who will be responsible if there is a robbery on one of the floors? MAG authorized dealers can leverage the wealth of experience in our support team, online knowledge base, warranty service and good spare parts availability for repairing to ensure any technical issue can be resolved faster.
Enhanced flexibility
Upgrade to ME-ACS Pro-Basic to support different floors at different lift functions. Let say you have an office at access 3rd floor on block A and 8th floor on block B. Instead of carrying multiple cards for each block, you can access all your offices in both blocks with just your face.
Privacy is my priority
Are you worried about seeing an unknown visitor walking around on your floor? You can easily control who can enter which lift, at which floor and at what time at your fingertips with our user-friendlier role-based access control. You don't need to be an IT expert. Click here to find out how easy it is.
How about the visitor?
Our ME-VMS software can help you manage your visitor and prompt blacklist person immediately. All visitor identity is verified by their MyKad before assigning their face to access specific floors. You will always know who is inside your building. The visitor does not need the hassle to return the access card and can be auto-checked out after they scanned at the last FR300 reader at the exit door.
Ordering info: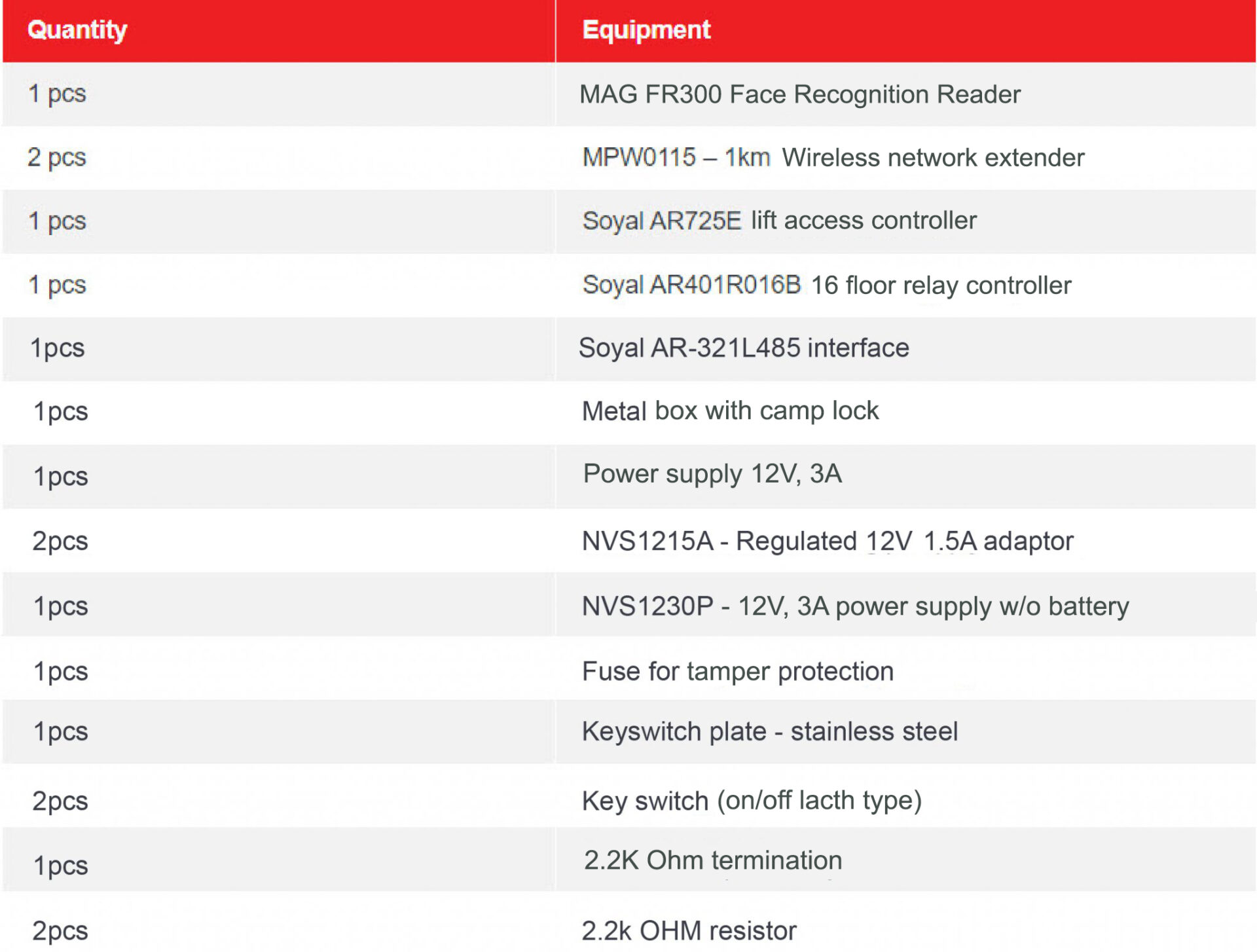 Optional accessories to add on:
Add AR401R016 floor relay controller to support additional 16 floors
Start enjoying the highest biometric security on every lift in your building with rock-solid after-sales service today. Click here to contact us now for more info.
If you are not ready to buy now, click here to learn about the 4 common problems of Face Recognition Touchless access system to help you make a wise choice.